I am Alpha and Omega, the beginning and the end, the first and the last.
— Revelation 22:13 (KJV)
Event ended
Vacation Bible School 2018 has ended. See you at the next event!
Vacation Bible School
11 to 12 December
9.15am to 4pm
This year we follow the Lord Jesus through the Bible - from Genesis to Revelation - seeing Him in Creation and looking ahead to His future return. He is the beginning and end, the Alpha and Omega, so come join us as we travel through time and discover more about the Saviour of the World.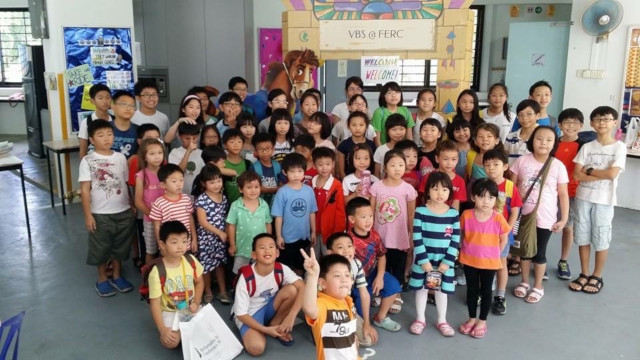 All are welcome - sign up your children from the age of 4 to 12 and bring a friend or two. Transport can be arranged.
Details
Date: 11 - 12 December
Time: 9.15am - 4pm
Age Group: Nursery to Primary 6
Fee: $10 per child
Venue: FERC (view map)

If you are unable to take your child to the VBS on any of the two days, transport can be arranged.
Questions?
Feel free to Email us by clicking here. Alternatively, if you do not have an Email, you can contact us via the contact form.